Free partition manager for HOME USER ONLY supports Windows 2000/XP/Vista (only 32 bit). With it you can extend system partition without reboot to optimize the performance of the computer and solve low disk space problems, Create partition for different use, Copy partition to protect our data, and do more basic and advanced partition operations.
1. Launch EASEUS Partition Master.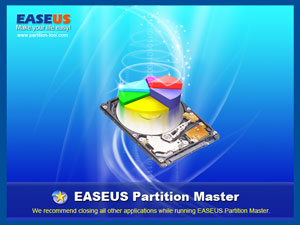 If there is no unallocated space

, you can reduce another partition to make unallocated space with "Resize/Move Partition" function.
1. Click "Partitions" > "Resize / Move", or choose "Resize / Move" in left "Partition Operations" or right click the mouse.
2. On a disk map, current size of the partition is displayed at the top of the dialog box.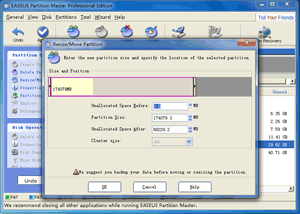 3. Move the mouse to the pane that symbolizes the partition you have selected, when the cursor become a cross crux, drag it front and back, the size of the unallocated space before and after are changed synchronously.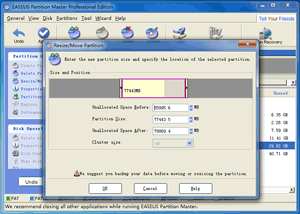 Also, inputting the number in the two fields directly can change the position of the partition, and using the corresponding up-down button of the two can make a jiggle.
4. After click "OK", partition will be moved to unallocated space. And there is unallocated place to create partition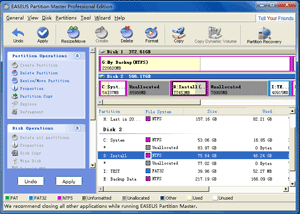 5. Repeat the above steps, you will be able to create partition.
After the new partition is created, click "Apply" to apply all pending operations.
Tips:
1. If the first partition you create in hard disk is logical partition, there will be an unallocated space in the front of it on the disk map. If the first partition is primary partition, there is no unallocated space before.
2. You may create 4 primary partitions at most, or create 3 primary partitions and an extended partition.